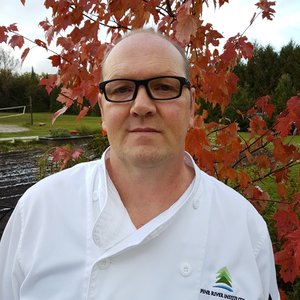 Joined Pine River in: 2018
Tillsonburg Born, raised and trained in Switzerland, Ron's passion for food comes naturally. At 16, he began a three-year apprenticeship as a butcher, followed a two-year apprenticeship as a chef. He worked in the kitchens of several restaurants and hotels in Switzerland.
Chef Ron has had an exciting career in the culinary world, working in Greece, France, and Austria. For his mandatory military service, Ron served as Head Chef. A passionate Chef, husband, and Father of three children, Chef Ron loves to share his experiences in cuisine and in life. He has developed a signature style by blending European influences with a Swiss foundation and distinct Canadian identity. Emphasizing fresh, local and seasonal ingredients, Chef Ron has been consistently building a solid reputation for excellent culinary quality, creative menu choices, and a true client-service approach. Ron and his family emigrated from Switzerland in 2006, after which he worked at The Olde School restaurant in Brantford and The Bridges in Tillsonburg. Involved with Big Brother-Big Sister Ingersoll, Ron won several awards in the Battle of Hors d'oeuvre. He later moved north where he worked at the JW Marriott as Banquet chef and later at the Log Cabin Inn in Parry Sound.