We are pleased to report that, thanks to a new commitment to fund another 160 hours of Equine Therapy from The Gordon & Ruth Gooder Foundation & The Arbonne Charitable Foundation, Pine River students will once again be saddling up! This popular program had a very successful initial year — made possible by pilot funding from the J.P. Bickell Foundation — with 31 PRI students participating in the four initial sessions over 2017-2018.
The classes are offered at nearby Jewel View Farm. Ellen Downey, founder of the Youthdale riding program, is a registered social worker. Her team of horses is trained to be attuned to the needs of vulnerable youth.
There are many success stories that speak to the importance of the Equine Therapy program, but the best way to understand the true impact is by hearing it from the participants themselves. Here are a couple of unsolicited messages written by students about their time in the program:
"I want you all to know how much you have helped me and how grateful I am. I went into the horse program feeling extremely anxious and almost unwilling to work with Kracker [my horse]. I struggled a lot at first, trusting Kracker, which I think reflects how I am with most people. Both Kracker and the volunteers were so patient with me as I slowly began to overcome this anxiety. I learned so much from Kracker. I feel so connected to him now and I'm really going to miss him, but I'm grateful that I got this opportunity. He helped me so much with my anxiety and he really is a kind-hearted soul."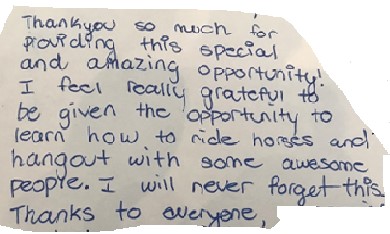 "Thank you so much for providing this special and amazing opportunity! I feel really grateful to be given the opportunity to learn how to ride horses and hangout with some awesome people. I will never forget this. Thanks to everyone."
In their own words, the students feel pride, empowerment and joy as a result of their experiences at the Equine Therapy program; successes that we can't wait to see continue.
Sharing PRI's Expertise in Family Program
Pine River Iinstitute Family Therapist Liz van Ryn and Clinical Director Victoria Creighton presented their research paper, The Call for an Integrated Family Systems Model. The research was published in the peer-reviewed Journal of Therapeutic Schools & Programs (2019).
The article describes PRI's approach and outlines the value and the challenges of providing transformative family therapy as an integral part of a therapeutic treatment program. PRI knows that successful residential youth treatment means working not only with adolescents, but with the systems within which they operate – especially their families.
Our participation in the NATSAP 2019 conference made it clear to us that Pine River has the most comprehensive family programs of any residential treatment centres in North America. We are proud to present our excellent program and share the positive outcomes with our peers across North America. We believe that sharing our model will lead to bigger impact and reach in reducing the incidence of youth mental health & addiction in Canada, and beyond.